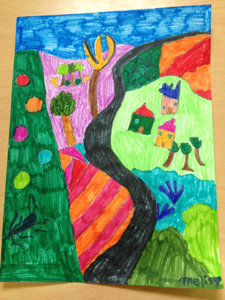 April kicked off with a field trip to the Museum of Fine Arts to see the Van Gogh/Hockney exhibit. Before the trip, we watched videos and did a landscape in the style of each artist.
At the MFA, we also toured the new Kinder building and saw work by world famous artists including Olafur Eliasson, James Turrell, and Carlos Cruz-Diez. Of special interest was a massive wall hanging by Ghanian artist, El Anatsui. Once back at Samson, after lunch in a park and a trip to Menchi's Yougurt, students tried their hand at his technique of malleable sculpture.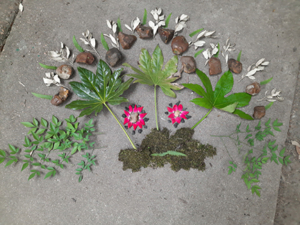 Yet another artist we studied, late in the month, was Andy Goldsworthy, the site-specific environmental artist. The students collaborated on their own site-specific installation, made of natural materials.
April was also ancient Rome month. We learned about Roman numerals, the Pax Romana, and the meaning of sayings like "beware the Ides of March" or "crossing the Rubicon." We learned about famous Romans including Julius Caesar, Cicero, Augustus, and Constantine, and the example the Romans set for government. In addition, we learned about the timeless advice of Marcus Aurelius ("time is a nonrenewable resource.")
We also learned about the engineering feats of the Romans. Students each made a cross-section of a Roman road ("all roads lead to Rome") in order to show all four layers. Students also worked together to build a functioning mock-up of a Roman aqueduct. Over two thousand years later, some of these structures are still around. That's built to last!
Finishing off the month, students participated in community service, helping our host, Heights Christian Church, pack lunches for the homeless. Students calculated the number of packages they would need to pack 60 lunches and then worked an assembly line of crackers, fruit, and canned meat. Math and cooperation as well as taking part in helping others. Samson is hands-on!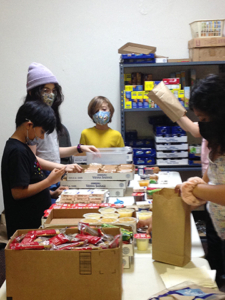 Coming up next month: the Celts, genetics, and Gregor Mendel's peas.